Books
The Extraordinary Life of Josef Ganz
The Jewish Engineer behind Hitler's Volkswagen

The first ever book on the extraordinary life of the genius Josef Ganz, the unknown German counterpart to Henry Ford. The unique story of the German originator of compact car design whom the Nazis tried to erase from the official record.
CLICK HERE FOR THE PAPERBACK EDITION.

The astonishing biography of Josef Ganz, a Jewish designer from Frankfurt, who in May 1931 created a revolutionary small car: the Maikäfer (German for May bug). The Nazis not only "took" the concept of Ganz's family car—their production model even ended up bearing the same nickname. The Beetle incorporated many of the features of Ganz's original Maikäfer, yet until recently Ganz received no recognition for his pioneering work. The Nazis did all they could to keep the Jewish godfather of the German compact car out of the history books. Now Paul Schilperoord sets the record straight.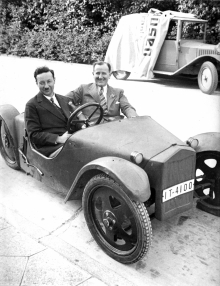 The Nazis did all they could to keep the Jewish godfather of the German compact car out of the history books. Now Paul Schilperoord sets the record straight. In a biography that reads like a spy thriller, he tells how Ganz was imprisoned by the Gestapo, until an influential friend with connections to Göring helped secure his release. Soon afterwards he was forced to flee Germany while Porsche created the Volkswagen for Hitler using many of his groundbreaking ideas. Ganz was hunted by the Nazis even beyond Germany's borders and narrowly escaped assassination.

After the war Ganz moved to Australia, where he died in 1967. This biography is a great read for anyone interested in World War II, Jewish history, the evolution of car design or simply the life stories of extraordinary individuals.

Ganz with a friend in his Maikäfer


Please click here to order the book at Amazon (USA).


For more information please download our fact sheet (pdf) here.



REVIEWS

"sensationally"
—Daily Mail

"intriguing"
—The New York Times

"[the book] has created a stir in the motoring world"
—The Times

"controversial and enlightening ... [with] the feel of a thriller"
—The Wall Street Journal

"interesting [story] ... that deserves to be told"
—The Canadian Jewish News

"a fascinating read ... [that I] had trouble putting [...] down"
—VolksWorld